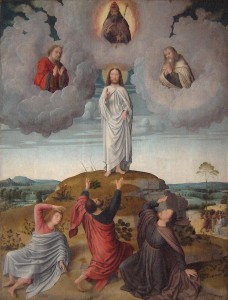 What does the transfiguration of Jesus have to do with us? What is the message being given to us that would help us during this week?
I think it means that ordinary men and women like us can make a difference in the world if we can just believe in our power to do something and not be afraid to stand up and make a difference.
Look at what the Gospel says about you. Jesus takes you up the mountain. He has called you from your homes to be here on the mountain, on this holy place. He shows you His Face in the Eucharist with Moses and with Elijah, the Law and the Prophets. Then He says, "Listen."
We know this already. We hear about it every week, how we should listen to the Word of God. "Rise, do not be afraid." God even said to Abram, "Go forth from the land of your kinsfolk and from your father's house to a land I will show you." What do you think God means?
Go. Go where? Places you don't want to go; the Mall, the neighborhood, the shopping center, school, the workplace – listen and I will tell you what to do.
May be it's a matter of going into the Acme and saying a decade of the rosary while you shop for the intention of a checker. Maybe it's searching for the poor or the alienated and finding ways to help them.
Maybe it's finding an elderly person in your own neighborhood and cleaning their windows. Maybe it's welcoming a friend to come with you to Mass, or adoration or a simple visit to the Shrine of our Lady in the parking lot.
Our strength comes from God alone, my friends. He saved us and calls us to a holy life, but we must first be willing to share in the hardship of the Gospel. This is what the transfiguration means for us: that we take our ordinariness and allow Jesus to make it extraordinary.
Abram went as the Lord directed him, so must you now go and do the same.