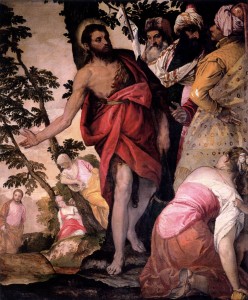 Today, violence is everywhere: physical violence, psychological violence and spiritual violence. Attacking all around us, trying to bring us down.
And yet today is Gaudete Sunday and the Church bids us rejoice! But how can we rejoice when people cut you off even without a blinker on 422, or run into our legs with their cart at the Giant. On Thursday morning, I say Mass for the Missionaries of Charity in Norristown. It was 6:30, I'm sitting at the intersection of Allendale and 202. A person on their cell phone too busy talking to see the green light. I wanted to scream out my window, "it don't get any greener!"
How do we rejoice when even in our homes we see violence, we hear violence on TV or our computer and we talk violently with each other? "The Lord, your God, is in your midst, a mighty savior, He will rejoice over you with gladness and renew you in His love, He will sing joyfully because of you."
Joy comes from a solid hope that the Lord, In Whom we believe, will come. Joy is an attitude that refuses to be conquered by violence, but rather celebrates our victory over sin through the resurrection of Jesus.
So, how do we re-learn how to be joyful in this time of expectation?  John the Baptist tells us in Luke: Share! "Whoever has two cloaks should share with the one who has none. And whoever has food should do the same."
In this way, your expectation will be renewed and you will be able to 'rejoice in the Lord always and your kindness will become known to all!
Share, take the time to stop violence from entering your home. Have no anxiety at all, but in everything, by prayer and petition, with thanksgiving, make your requests known to God."
In this way, "the peace of God that surpasses all understanding will guard your hearts and minds in Christ Jesus," our Lord.