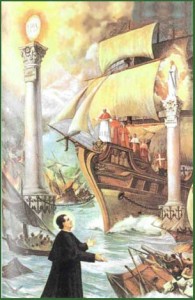 Reading the paper and watching the news lately makes me feel anxious. When I read about federal and state governments; when I read about not having the 'right' to herald the Gospel of Jesus in the public forum; or that there are people who think Catholics should be forced to go against our consciences in matters of faith and morals.
I ask myself, what about Jesus? What about my love for Him that I want to share not just with others but also with everyone! "Go out to all nations!"
I want to confess the truth about who Jesus is and what He teaches us about love, about freedom and about human dignity. I can become afraid of being labeled backward, ignorant, sub-human; stupid, bigoted, close-minded and much worse.
When did people stop believing in God, or rather, when did they begin hating Him? The result of this hatred is anger and alienation and a spiritual poverty, which enslaves humanity in self-loathing.
When I feel this way, I go to the chapel and I pray. I remember not what I learned so much as what I believe. I touch again the gift of faith that God gave me and in this way I get a sense that what I always believed is true and that my only true freedom is in obedience to Jesus. If I stay with him in the Church, I will be safe.
The Scripture passage about the stormy seas always comes to me with the admonition of Saint John Bosco to stay in the boat with Jesus. Hang on! Your only freedom is with Jesus! Hang on!
There have been many martyrs of all types throughout our Christian history. Among us even today, there are Christians suffering for what they believe. So why not us; are we any less than they? Do we believe any less than they? Have we not all been "called for freedom?"  In these days of clarification, free yourselves from earthly bonds and rejoice in surrendering your lives to Divine Providence!
As Christians, our only true happiness is in the warm embrace of Christ in His Church. We cannot help it; we are born lovers of Jesus, the Son of God. "Blessed are you when they persecute you and utter every form of slander against because of me. Rejoice and be glad, for your reward in heaven will be great!"
I believe that, and in my heart I am comforted and not afraid! But I must speak, I must herald and must make clear in the public forum the way of the Lord, the way that is most human and the only way we can accept reconciliation and true peace. If I choose Christ then I have no choice but give my whole self to God. If not, I will never be free; I will never find peace.
The earthly consequences of our confession will be difficult, but our eternal happiness will be assured. Saint Paul tells us clearly, "for freedom Christ set us free; so stand firm and do not submit again to the yoke of slavery. So my dear friends, be brave, hold on to your faith; hold on to our families, your spouses and your children. God has already given you the strength to fulfill His Will for you in this life. BE NOT AFRAID.