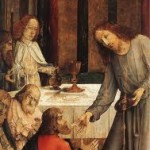 Submission to the Will of God is not an act of slavery. It is rather an act of likeness. We desire ourselves to be like God Who is creative, forgiving and holy. The Gospel reminds us that many people will find this teaching restrictive and hard to live.
Certainly if we try to be the perfect self-reliant individual rather than a perfecting Christ, we will run into a lot of heartache.
But, if we allow ourselves to be seeing more deeply into the Truth, we will come to understand that being Christian is not the simple result of following the ethical standards of the Ten Commandments.
We are Christians because we encounter the person of Jesus Christ who gives new life and new direction.  He frees us to be in a relationship based on love not fear.
Through this relationship, we become in fact subordinate to the other out of reverence for Christ.
Joshua says decide today who you will serve the gods of self-centeredness and self-absorption or God Himself Who will set you free.